← Go Back
January 18, 2018 • 8 min read • Lifestyle
23 Fun & Eco-Friendly Date Ideas for All Budgets
A sustainable date - does it have to be boring? Absolutely not, unless you're into that). I feel like when I tell people that I live a eco-friendly lifestyle, they think I'm a hermit that doesn't have any fun. That has nothing to do with being zero waste, just the fact that I like to live like a grandma.
But all jokes aside, it's super easy to have fun while living zero waste. In fact, I think you have more fun and learn more about the person you're with because you sometimes have to get creative and aren't distracted by needless items.
So here's a list of 23 eco-friendly date ideas at three different price points for you and your boo to enjoy.
Heads up: the "cost" section of these posts are estimated costs per person. It's obviously going to vary based on where you live and are willing to spend in some cases.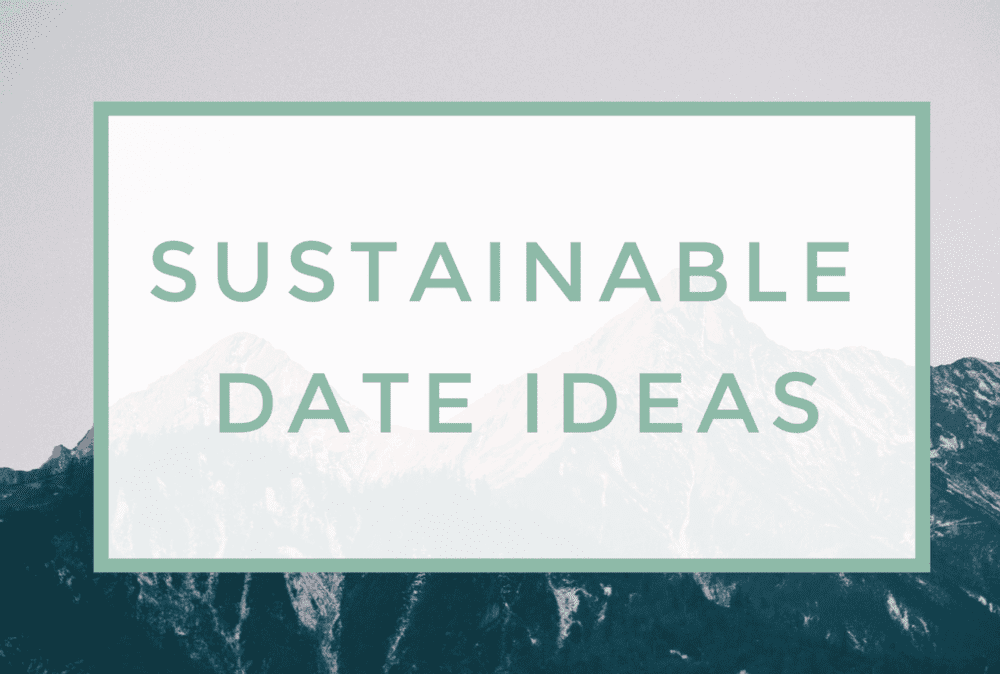 Free Sustainable Date Ideas
Who says you need to spend any money to have a good time?
1. People Watch
Find a high trafficked area like a coffee shop overlooking a busy street, a park, or a market, and watch people walk by.
Come up with stories about their lives. Guess what brought them out today to that spot.
One one of my favorite memories with my boyfriend is bringing some hot drinks and parking ourselves along a Halloween pub crawl route and checking out everyone's costumes.
2. Hiking
A great day date idea! Go explore the outside- the only cost is the cost to get to your destination. Other than that, it's free! When I'm hiking, I try to adhere to the Pick Up Three rule, where I try to pick up at least 3 pieces of trash I find.
Gotta leave the place looking better than before if possible.
(This is also my favorite sustainable date idea!)
3. Work out
If you have a gym membership, try a gym date. Take one of the classes that might be offered (like spin or yoga) together. Try a new type of exercise together, for example, play each other in a game of HORSE (basketball game) or a friendly soccer game.
4. Make Playlists
Explore different kinds of music together. Watch music videos from other genres.
Make each other a playlist that you think they'd like and another that you think they wouldn't. Swap and rate them. This will be sure to bring out some giggles.
5. Check out Free Nights Around Town
Check and see if your local museums and art galleries have free nights during the month. I know that if you're a Bank of America member, you can present your ID and debit/credit card at participating museums and have a free entrance ticket during the first full weekend of the month!
6. BuzzFeed Quizzes
Trust me on this one, taking Buzzfeed quizzes with your significant other might seem immature at first, and you're right. BUT it's so funny.
Try to guess what the other person would put and see how much you got right.
Plus the premise of a lot of their quizzes are pretty ridiculous to begin with so I bet you'll both get a few chuckles out of it.
7. Explore your town like a tourist
If you're like me, I bet there are some areas you've haven't explored because you've said you'll do it later. Now's the time!
Become a tourist of your own city and seek out that wall mural everyone takes photos in front of, walk down that street with all the lights, watch a Christmas tree lighting, whatever it may be.
8. Get lost on purpose
Check out this guide on how to get lost in your city on purpose.
9. Do some yoga
This can be taken literally or you can read through the lines ;)

Frugal Sustainable Date Ideas
Ok, so you've got a little cash, but aren't looking to spend too much on a night out. No worries- there are plenty of things you and the boo can do together that will cost you \$15 or less per person.
10. Go to the movies
Bring your own snacks! You'll save a ton of cash and trash!
11. Arcade
Go for the games! If you're over 21 years of age, skip the drinks as those tend to be the most expensive part so I recommend skip the alc and let loose with the games!
12. At home meal
Find a recipe online and make it with your partner. Light some candles, open a bottle of wine, play some music. Go the extra mile to make it cozy and you'll feel spoiled despite being home.
RELATED: 12 Zero Waste Vegan Recipes
13. Movie drinking games
Another at-home date idea, but not quite as classy as a meal. If you're looking to let loose and share some laughs, pick a movie and drink every time something funny occurs frequently. Check out this list of pre-established games.
14. Game Night
Board games, card games, and truth or dare are great ways to get to know someone else. For two-person games, I love Exploding Kittens, Golf, Scrabble, Yahtzee, and Checkers!
15. Roller skating
I personally love active dates. Channel your inner kid and skate out to some jams.
16. Rock Climbing
Along the same lines of roller skating, try out rock climbing! People at these gyms are super nice and it's always fun to goof around with your buddy and watch them fall on their ass.
17. Laser Tag
Make sure the place isn't reserved for a kid's birthday party (this may or may not have happened to me). If it's not, have a blast zipping around trying to tag the other person.
Bouji Sustainable Date Ideas
Ok, you've got some dough you're willing to drop tonight. Lucky duck!
18. Skydiving
#1 on bucket list-- jumping out of a plane (hint-hint to my boyfriend).
19. Learn a New Skill
Bread-making class, DIY terrarium class, wine tasting course, you get the picture. Groupon is a great place to find and try new things for a discount.
20. Go Paint Balling
Get decked out and see who's got a better shot.
21. Hot Air Balloon Ride
I've always wanted to do this one. Book a hot air balloon ride for a sunrise or sunset and get an incredible view of your home.
22. Swanky Restuarant
Chances are there's a restaurant in town you've never been to because of the price. Now's your chance! Maybe it's on the top of a tall building or a nice sushi restaurant. Whatever it is, treat yourself to a delicious meal.
23. Tickets
Concert, musicals, plays, etc. Grab two tickets nice seats and have a good 2+ hour date.
Wrapping it up!
I hope this list shows you don't necessarily need to drop big bucks to have a good time, but you certainly can if you want! But most importantly, I hope this inspires you to consider zero waste date nights/days.
And when in doubt and you need some cheap dates, check out Groupon. I can usually find discounted tickets to different classes (like bread or terrarium- making classes). They even have some discounted restaurant deals too!
---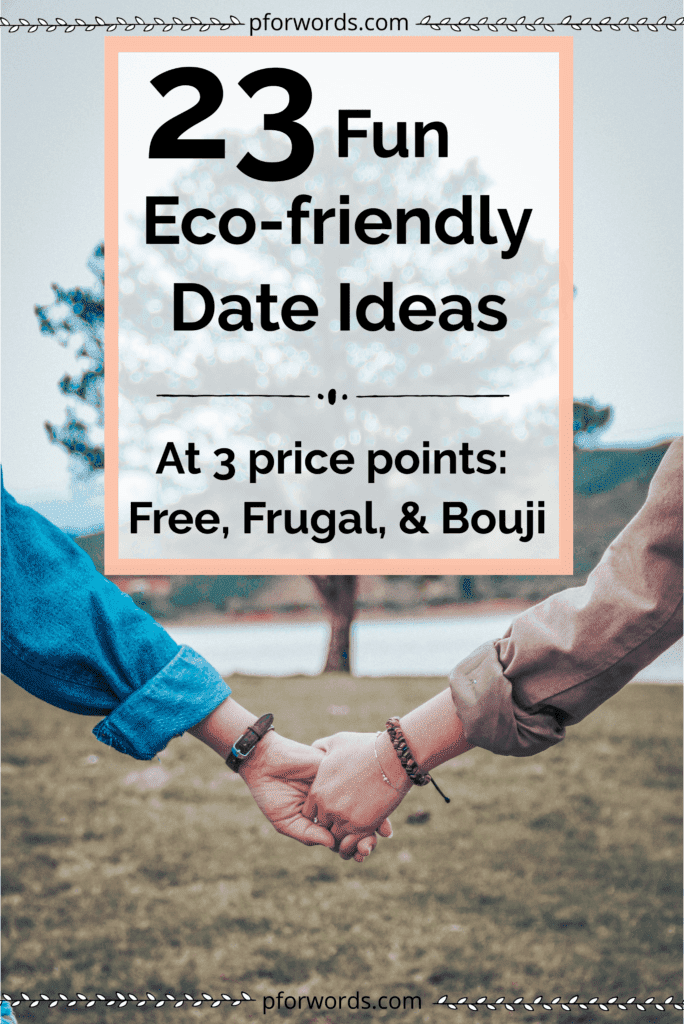 ---
You may also like:
Hi, I'm Taylor
Amateur adult. Zero waste zealot. Personal finance fiend. Spicy food supporter. I'm an mid 20's gal living in Denver, Colorado. My love of the outdoors has cultivated my zero waste lifestyle, which inadvertently fueled my passion for personal finance. Cheers to everyone interested in lessening their footprint while growing their wallet!
---
resources:
---