← Go Back
June 04, 2019 • 15 min read • Shopping
6 Comfy Sustainable Shoe Brands
Let me preface this post by saying that the most sustainable option for buying new items is by shopping second hand. That principle extends to shoes. However, shoes are super tricky for me. I have wide feet that range from either 9.5 to 11 sizes depending on the manufacturer. So finding comfortable shoes from thrift stores has been difficult, which is why I now invest in new pairs from ethical companies.
My eco-lifestyle revolves around minimizing my impact by decreasing my consumption and thrifting, shopping second hand, which in turn saves a lot of money. This is one the situations where I spend more than my normal budget so that I can vote with my dollar and support companies that are making a difference.
Now before we jump into the post, I wanted to clarify the three aspects that create 'sustainable fashion' in my eyes.
1. Eco-fashion refers to the garments impact on the environment, and the carbon footprint associated with that item. It prioritizes the planet.
2. Ethical fashion is looking into the fair treatment of garment workers, and the health and well-being of the communities, which may be affected by the making of a particular garment.
3. And longevity means that items can be worn for years and years. When pieces are built to last, unlike fast fashion, it helps mitigate items being thrown out.
When these three aspects come together, it creates a sustainable company.
Now, it's very difficult to do all these things together perfectly in today's economy. But the 6 companies I've listed here and trying their best to do the best they can for their workers and the world. At the end of the day, there are no requirements that brands enforce sustainable practices, it is all self-motivated. So while these 6 won't be completely perfect, I applaud them for taking steps in the right direction.
Scoots
This one is a little different in nature from the other ones because they've just launched their Kickstarter for this awesome shoe!  I partnered with them because I think what they're creating is awesome.
Styles:
Unisex; Sneakers
Factories:
Scoots factory is currently based in Portugal. That's because Portugal is close to one of the main materials in the shoe (cork) meaning that they can lower their production shipping emissions while working with the best cork craftsmen. Porto, Portugal, also has a long heritage of making high-quality footwear (they have over 300 factories!). And it allows the Scoots' team the ability to easily monitor the conditions for the workers. treated fairly and is paid a living wage. Dave (their CEO) spent a whole month in our factories to make sure.
As a small and new team, I don't expect them to have the resources to have certifications for their product and factories (like fair trade). Their commitment to transparency right now suffices (for me), but as they grow, I'd love to see third party audits of everything.
Materials:
Pinatex = Pineapples + Corn! Piñatex is a natural, sustainably-sourced, cruelty free material because it's made with discarded pineapples leaves and corn to produce a vegan-friendly faux leather.
Other materials include: natural latex, Cotton canvas
Misc.:
At the end of the long life of the shoes, the Scoots team will offer all customers the opportunity to send the shoes back to them. They will separate the non-compostable parts of the shoe (5%) and responsibly compost remaining parts of the shoe!
Price: \$95
Check out their Kickstarter here as well if you want to get them ASAP!
Rothy's began as an idea to turn recycled, single-use plastics into something both beautiful and useful.
Styles:
Women & kids; Flats, loafers, sneakers
Factories:
By owning and operating our factory, we ensure we have complete control over how we do business.
But I can't find any more information about where the factories are located and what the environment is like.
Materials:
Rothy's knit uppers are made from 100% post-consumer plastic water bottles.
The foam components found in Rothy's insoles are made from other recycled shoes.
They say they only use non-toxic vegan adhesives on all shoes.
Misc.:
Their vegan and biodegradable shoe boxes are made from 85% post-consumer recycled materials. Both the cards and the box are 100% recyclable, and the box is resealable so no tape is needed during the returns process.
In 2017, Rothy's offset 1,754 tons of carbon caused by their shipping, and then they used that offset to protect 2,067 acres of Amazon forests.
Certifications:
None that I can find.
Price: \$125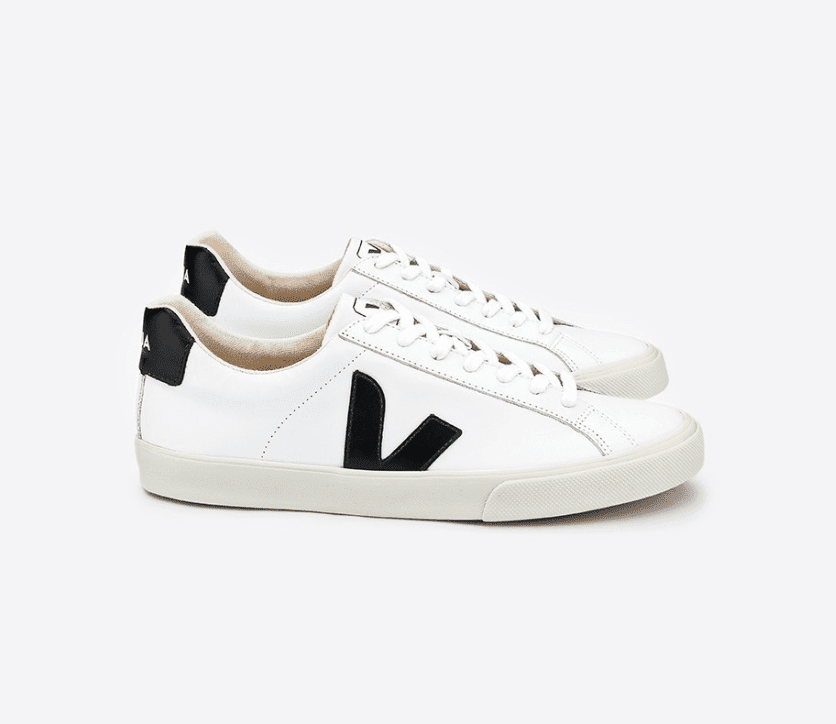 VEJA is a French born shoe company/ fair trade, ecology and links together economy, social initiatives and the environment. They use organic or recycled and fairly traded cotton for the canvas of the shoes and wild & fairly traded rubber for the soles. VEJA values upcylcing materials. All products are made in a high standard factory in Brazil.
VEJA believes in sustainability, and is a proud Certified B Corporation brand. Additionally, all tanneries VEJA purchases are LWG Gold through Leather Works Group.
Styles:
Men, Women, and kids; Sneakers
Factories/Production:
VEJA aims to be transparent about the people who contribute to its supply chain.
They work with NGOs that provide support to cotton producers. They work directly with organic cotton producers and wild rubber producers, and buying their materials at a market-decorrelated price and cut out the middle man.
Since VEJA was created, all of their sneakers were handled by Atelier Sans Frontière (ASF) employees. Atelier Sans Frontières promotes the professional integration of people who are excluded from the labor market, by offering them a suitable paid job, personalized social support, and helping them develop a career plan.
The team does field checks to ensure they enforce a child-free, forced-labor-free working environment that provides workers with livable wages.
Materials:
Cotton: Organic and fair trade. In 2015, the region suffered a drought that killed all the cotton flowers. To deal with this shortage, they used recycled cotton to make our shoes.
Rubber: Since 2004, they have purchased 195 tons of wild rubber, this allowed us to preserve 120 000 hectares of the Amazon forest.
Recycled Materials: Several types of recycled and transformed materials are used in our sneakers. J-Mesh is created using a blend of jute, recycled cotton and recycled PET. Burlap, a traditional Brazilian material, gives it anti-static and thermoregulation properties.
Leather: Some (but not all) models include leather. VEJA says that they  "track our leather to make sure it doesn't come from the Amazon nor from an area that was deforested for cattle farming purposes. The leather we use comes from southern Brazil.
Tanning is the most delicate step. VEJA works with a tannery that was audited and certified Gold by the Leather Working Group. This tannery uses chrome. While inoffensive and present in nature, it can oxidize and become toxic if all parameters aren't followed to a tee. To ensure the chrome doesn't turn into the toxic chrome VI, "they perfom random checks all years long to monitor the level of chrome in our leathers. They meet REACH standards."
Misc.:
Honestly, their website breaks down all their sustainability practices and ethics much better than I could here. I recommend giving it a look.
Price: \$85-130 (euros)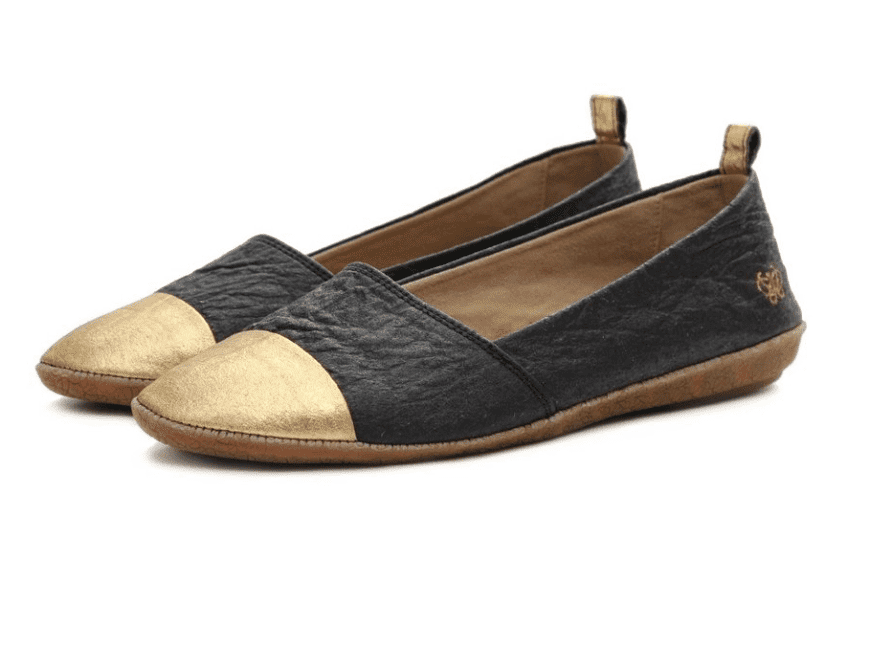 A UK based, "award-winning ethical shoe brand, combining outstanding ethics with sumptuous comfort to create shoes that you will truly fall in love with. We offer expertly-crafted sustainable footwear, including men's vegan shoes, women's vegan shoes, and non-leather shoes."
Styles:
Men and women ; scandals, sneakers, boots
Factories/Production:
"All our shoes are made in carefully sourced factories.  Our factories are committed to the highest standards of ethical manufacturing (please read our Suppliers Code of Practice for more information), have a strict non-toxic policy, and they recycle nearly all their waste products, including fabric off-cuts and water."
They have included a video of what their production process and factory looks like, which I love!
Materials:
All their materials come from naturally renewable sources and are responsibly harvested. They contain no pesticides, bleaches or toxic dyes and are locally sourced wherever possible. They use organic cotton in our shoes and all our leather is chromium-free.*
You can read about their materials in more detail here.
Leather: "We recognise that sustainability is a journey and that there are always improvements to be made. Even the most sustainable leather creates a big drain on natural resources. We are therefore investigating alternatives to leather for our future ranges, and have recently introduced a vegan, solvent-free eco microfibre."
Solvent-based substances: they do not use solvent-based substances and glues, because Po-Zu says they are harmful and pose hazardous health risks to factory workers.
Linen: Their linen is spun from the blue-flowered plant, Flax, of which 80% is grown in Europe. Flax is GMO-free and only requires rainwater to grow.
Pinatex: "is an innovative, natural and sustainable non-woven textile made from pineapple leaf fibers. These fibres are the by-product of the pineapple harvest grown by farmers in the Philippines and require no extra land, water, fertilisers or pesticides to produce them."
Cotton: Their Organic cotton canvas is GOTS certified, and is grown in Turkey.
Wool: All wool is unbleached, and in most cases un-dyed, such as our felt wool lining and our British wool tweed, which is sourced locally from white, brown and black British Jakob sheep.
Cork: Cork is made from the bark of the Cork Oak tree, which grows close to our factory in Portugal. The harvesting of the bark does not harm the tree and a new layer of cork quickly regrows, making it an excellent renewable resource.
Coir: mix of coconut husk and natural latex
Read more about Po-zu's materials here.
Misc:
Po-Zu has set up The Better Shoes Foundation in 2016 to promote sustainable development and practices across the global shoe industry by providing an open-source platform where producers can access relevant information and be inspired by the advances others are making.
Certifications:
Fair Rubber Association, Ethical Company Certification, The Butterfly Mark, GOTS (Cotton), Biocalcae (Leather)
Price: $65-$150 (Euros)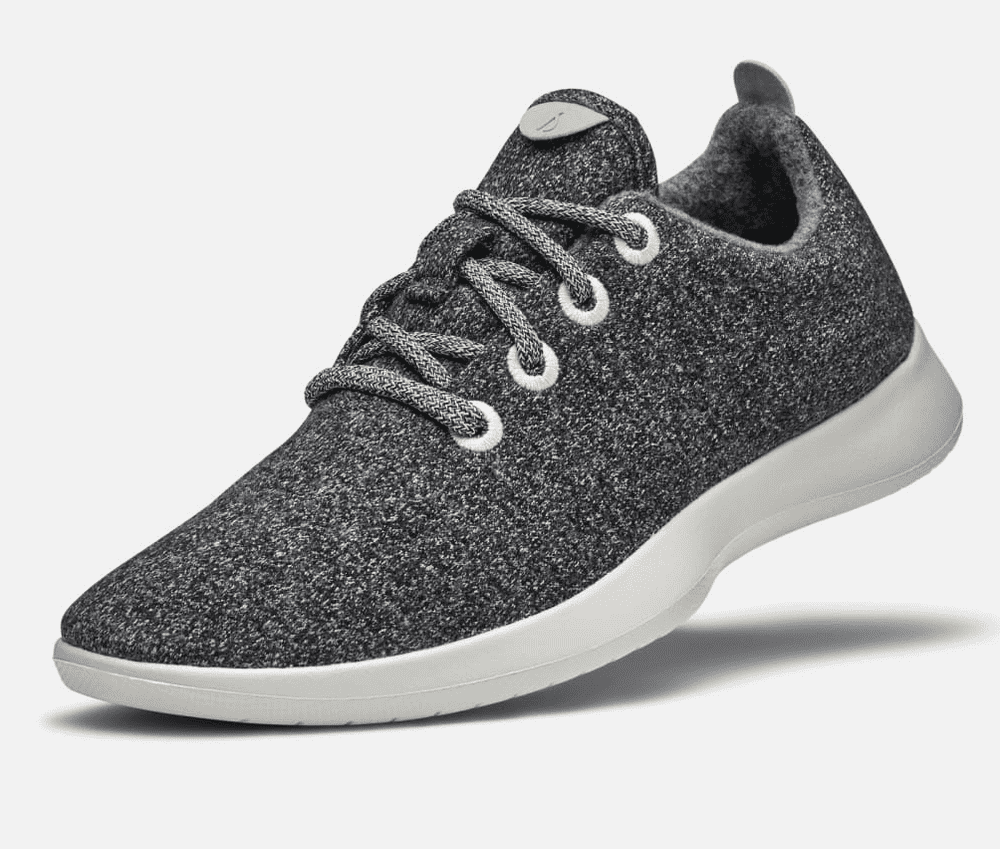 Super comfortable shoes made with natural materials like merino wool, eucalyptus tree fiber, and sugar cane.
Styles:
Men and Women ; Sneakers
Factories/production:
I can't find too much concrete data on how workers are  treated in their facilities and what the facilities look like.
"For our Tree collection, we use a fiber which is crafted by Lenzing, a premier fiber producer based in Austria who received the European Award for the Environment from the EU for their sustainable manufacturing. Our China-based factory where knitting and assembly takes place is WRAP certified, and they pride themselves on being one of the nation's most innovative apparel producers.
"Our Tree Toppers feature our newest material innovation, SweetFoam™. It is the world's first outsole created with carbon-negative, sugarcane-based material - green EVA. The sugarcane is grown and processed in Brazil, and its byproducts are used to power the mill and fertilize the fields. Your Tree Toppers are then assembled and packaged at our factory in China, alongside the other Tree shoes."
WRAP certification means that factories adhere to their 12 principles, including the prohibition of forced labor and the prohibition of child labor.
It also enforces that hours works and compensation of workers meets local laws, but China is notorious for not having the best labor laws….
Materials:
Wool: Allbirds use wool from New Zealand sheep, which allow their processes to use 60% less energy than materials used in typical synthetic shoes. They work with ZQ Merino (which has created the world's first Merino wool accreditation program) to ensure their wool is held to high environmental, social, animal welfare, and economic sustainability standards.
Recycled bottles: They use recycled plastic bottles to create their laces.
Tree: TENCEL, their tree fibre, is sourced from south African farms that minimize fertilizer, rely on rainfall for water, not irrigation. This process uses 95% less water than traditional materials, like cotton.
Sugar: Allbirds use sugarcane sourced from Southern Brazil and is subject to rigorous standards that protect people and the environment. These standards were developed by Proforest. Allbirds claims that the farms are audited by a third party, but have not provided the audits themselves or any additional information on this to back this claim up.
Misc:
They created a dual purposes shipping and shoe box. The box uses about 40% less material, is made of 95% recycled cardboard, and is 100% recyclable.
Certifications:
ZQ-Certified New Zealand merino wool, FSC (Forest Stewardship Council) Certification,  B Corporation certified, Soles4souls partnership, WRAP certified (for productions in China)
Price: \$95
SAOLA was created by an outdoorsy father who developed a new-found level of responsibility for the well-being of our planet. They launched their Kickstarter in 2017, so they are a relatively new show company as well.
Style:
Women and Mens; Sneakers and loafer
Factories/Production:
I can't find much information about their factories on their website sadly. I was able to find this production update they provided during their Kickstarter, which has photos of their supplier at the time.
They do list that their PET supplier is accredited by the "Recycled Global Standard" certification, which ensures the traceability of the production line of these materials.
Materials:
Soala tried to use as many recycled, organic, and bio-based materials as possible in the construction of our shoes. But there are still limitations preventing them from being truly 100% eco-friendly, which is why they're committed to continuing to research and make improvements every season. Every pair is vegan.
Recycled Plastic Bottles (PET): Depending on the style, each pair of SAOLA shoes contains between four and five recycled PET bottles.
Recycled Algae foam: We've partnered with the team at Bloom Foam to harvest harmful algae and create eco-friendly, bio-sourced materials for the insoles and outsoles of our shoes. Bloom Foam removes harmful algae from the water and puts it through a process that dries, crushes and converts it into powder. This powder is then mixed with EVA (a synthetic material) to become Algae Foam, used for sole construction. Using Algae Foam allows us to use fifteen to twenty percent less synthetic materials in our soles, cleans lakes of harmful algae, and prevents the release of CO2 into the atmosphere. Now that's what we call a win for mother nature, and a win for your feet.
Organic Cotton: SAOLA uses organic cotton for their laces.
Cork: Cork is a natural and highly renewable material harvested from the bark of cork trees. This process causes no harm to the trees.
Misc:
1% of the proceeds from every pair of SAOLA shoes sold go to the MWALUA WILDLIFE TRUST, "a grassroots organization that relies on volunteer efforts to supply sustainable water systems to wildlife communities, while also promoting human-wildlife coexistence. Volunteers work with communities to raise awareness about conservation, to promote ecological restoration, and to increase ethical economic opportunities to protect Kenya's nature and biodiversity."
Price:  $80-$100
Everlane
I know some people are going to ask where is Everlane on this list? Well, I was conflicted to include them. While they have made a name for themselves because of their transparency with their factories, they have been slow to extend that same transparency to where and how they source their materials.
Up until recently, there was little to no information about where their materials were sourced from. They did admit  in 2017 that their cotton wasn't organic or Fair Trade certified, the latter of which is especially not great.
Then in 2018 they announced that they are planning on phasing out all kinds of virgin plastic from its business by 2021. Instead, all plastic will be recycled. And by golly, they did it and released their ReNew line of jackets made of recycled plastic and created in their ethical factories. Win!
Now, they've announced what they're calling "a super sustainable sneaker": The Trainer.  Everlane's GM of Footwear and Accessories, told Refinery29. "The Trainer's sole is 94.2% virgin plastic-free, made by blending natural rubber and post-industrial recycled rubber. This keeps nearly 18,000 pounds of rubber out of landfills—enough to make 1.3 million latex gloves!"
And the Tread by Everlane team isn't stopping there. "A zero-impact sneaker is our ultimate goal and we're currently working on several fronts to further reduce the impact. This includes developing alternatives for the few components still made from virgin plastic, designing more efficient patterns to reduce leather waste, and searching for leather alternatives that are as beautiful and durable as the real thing," says Melville."
While this is a great step in the right direction, there is still uncertainty about how their leather and other materials for shows that aren't this line are sourced.
So, at least in the shoe department, Everlane has a little way to go. But I love that they're actively trying to do better.
----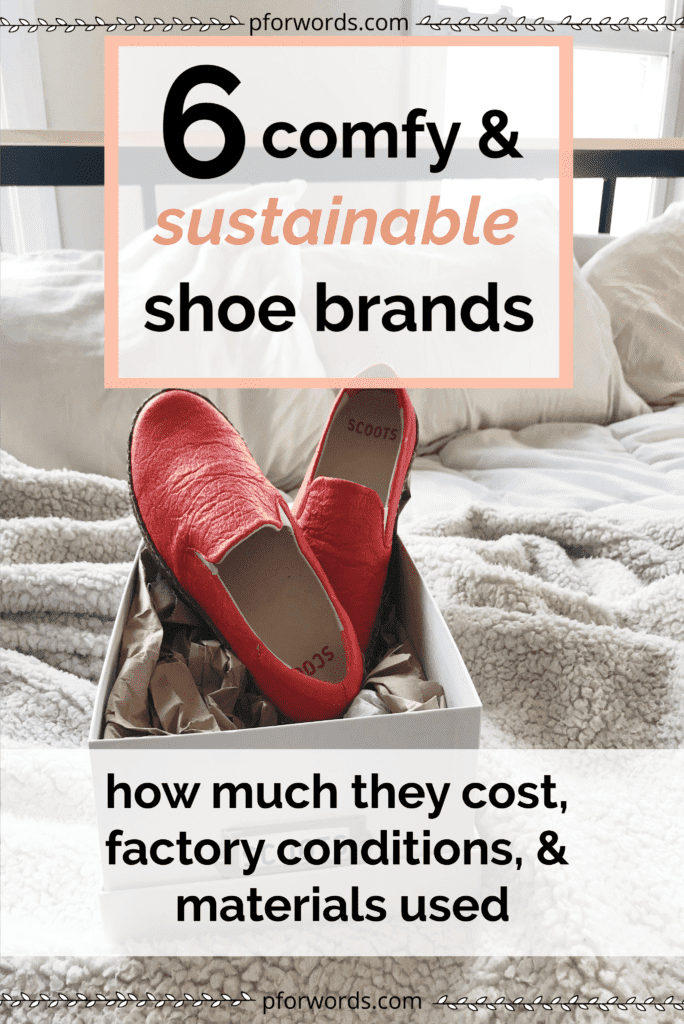 Hi, I'm Taylor
Amateur adult. Zero waste zealot. Personal finance fiend. Spicy food supporter. I'm an mid 20's gal living in Denver, Colorado. My love of the outdoors has cultivated my zero waste lifestyle, which inadvertently fueled my passion for personal finance. Cheers to everyone interested in lessening their footprint while growing their wallet!
---
resources:
---